<!.....Starting link to K.E.K. GEMS INTERNATIONAL.........!>
<!.....ending link to K.E.K. GEMS INTERNATIONAL............!>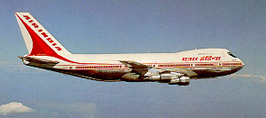 The Story of Air India

Air India, the national flag carrier of India first took to the skies on 15th October 1932 with two small engine airplanes. The first operation was a mail service from Karachi to Bombay. Then to connect with Imperial Airways service London-Karachi to Madras. The first leg of the flight from Karachi to Bombay which took place on that October 15, 1932 and piloted by the late J.R.D. Tata, is now considered as the birth date of Indian civil aviation.
The metamorphosis from Tata Sons to Air India Limited started on July 29, 1946 when the Company went public under the name of Air India Limited. On March 8, 1948 the Company was incorporated as Air India International. The airline was nationalized on August 1, 1953 with J.R.D. Tata as its Chairman. The name of Air India International was abbreviated to Air India on June 8, 1962.
Air India's network now spans 42 onlines (including 2 cargo stations) and 81 offline offices including 22 sales representations all over the world. Air India now operates scheduled passenger and cargo services from Bombay and nine other Indian cities to:
Bangladesh : Dhaka
North America : New York
Canada : Toronto
Europe : London, Paris, Frankfurt, Geneva, Zurich, Rome, Moscow
West Asia : Doha, Abu Dhabi, Bahrain, Jeddah, Kuwait, Muscat,
Riyadh, Dhahran, and Dubai East Asia : Bangkok, Hong Kong, Tokyo, Osaka, Kuala Lumpur,
Singapore and Jakarta Australia : Perth

The airline has a fleet of 4 Boeing 747-400, 9 Boeing 747-200, 2 Boeing 747-300 Combi, 8 Airbus A310-300, 3 Airbus A300-B4

Air India's logo - the CENTAUR was created in 1948 to represent speed and at the same time it was meant to have universal appeal. Centaur - a stylised version of Sagitarius, the archer - the ninth sign of the zodiac. Thus Centaur denotes movement and speed in the constellation - plane and planetary.

Air India's LITTLE FELLOW though typically Indian and epitomizing India's traditional royalty, is a man of many parts. Created in 1945, the boardings/billboard of the world have been his stage where he played over boy, sumo wrestler, pavement artist, vendor of naughty postcards, capucine monk, Arab, Chinese etc. Yet retain his essential characteristic: the outsized moustache, strip turban, aquiline nose, etc.
Jakarta:
The first operation to Jakarta was in 1958. This was discontinued in 1962 and resumed once again in 1967. In 1976 the flight was once again terminated and resumed on 31st October 1993 with an Airbus A-310 aircraft, twice a week every Sunday and Wednesday.
From Jakarta you not only can fly direct to Singapore and major cities in India, but also direct to Rome, Geneva and London in Europe; New York in USA; Muscat, Riyadh and Jeddah in the Middle East; Nairobi and Johannesburg in Africa; with connections in either Madras, Bombay and Delhi.
Aside from providing air transportation services to the travelling public, Air India offices worldwide also engaged in the activities of selling India's tourism industry. These activities not only giving general information about India but also thru the creation of various package tours to India in cooperation of tour operators around the world.
From Jakarta, Indonesia Air India in cooperation with Smailing Tour have several selected package tours to India. Should you be interested in discovering India, please click here: FIT India Packages".
Should you need further information about any particular products or services and its related rates which you cannot find in this pages,please do not hesitate to contact Smailing Tour by:

---